Election Day! Sept 1st '13


Figs line up to cast their brick for President. Guards are out in force today to make sure everything goes off with no violence. Acting President deeds shows confidence in his chances as he watches from above. Exit polling shows different as figs coming out mention they have been throwing support behind imprisoned Bob. One fig said. "We need to hit the reset button, Bob's reign was fun, with lots of expansion."
Exit polls, Bob 45%, Leslie 45%, Deeds, 10%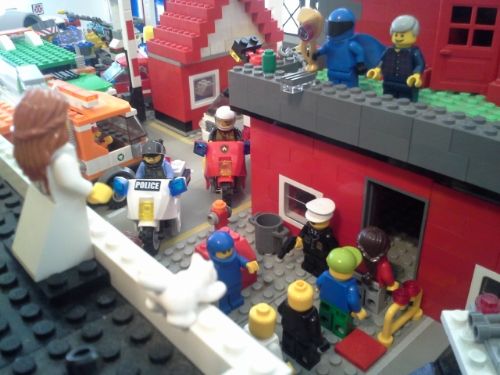 Cobra Protects PBR


With HISS tanks on every street corner, Cobra troops protect the figs of PBR. As the election nears President Deed's announced Cobra would work in collaboration with Police Figs to keep the country safe.
"Terrorists, or as figs know them, Blackbrik and GI Fig, are expected to cause unrest and protest the election that their chosen candidates are expected to lose." Was the announcement from the House of Senate. The House, under direct order from the President, voted to allow Cobra to become the full protection force for PBR. All current troops were absorbed into the ranks and given blue, Cobra uniforms, to identify themselves.
Figs throughout PBR are remaining calm, but scared, as they see the Government crack down on dissidents. Numerous figs loyal to the old regime of Brik were arrested this past week for terrorist threats to the Government. Neither Candidate Leslie or Bob could be reached for comment. Leslie is thought to have fled the island and Bob is still under arrest.
Polling data shows a huge gap that the acting president must make up, Fred is trailing in every poll we have taken.
Leslie Anne, 50%
Bob the King, 40%
Fred Deeds, 10%


Figanauts Land Safely


Walking off a 4439 Heavy Lift Helo the two Figanauts Hardtop and Payload were all smiles as they completed the first successful space mission for a Fig from PBR. They were not allowed to speak to the public but officials from the Space Theme did give us this tidbit. "We finally made it, Lego figs around the Lego Universe have made it into space for years. We finally joined them. It is a proud day to complete a mission first started by our late leader, Brik.
The two figanauts will be given some R&R before being interviewed and meet with the general figs. We expect to see more of them and more missions after the election.
Hardtop and Payload



Leslie Speaks in Public, Out of Hiding


With armed guards surrounding her, Leslie Anne spoke at length about the elections, and foreign lands. In regards to President Fred, she explained how he is corrupting the election by holding Bob at a undisclosed location. Along with that she explained that he still isn't a legitimate leader since he does not posses the 'Great Seal of PBR'. With the election weeks away now she has pulled ahead in the polls, with a commanding %40 of the figs announcing they would pull the brick for her. Bob comes in second with %35 of the figs and the President only polling at %25. Presidents Fred's office has not commented on these current polling numbers.
Across the plates of blue the Emperor of Legoland, David, did comment on PBR's election. The leader tore PBR a new brick when he called Leslie Anne a '
silver-tongued sycophant'
and the President a '
power-hungry narcissist' .
Figs in PBR were shocked to hear such words from a leader they consider a Allie. The Emperor did have kind words for Bob the King but unfortunately it doesn't look as though he will be able to thank the Emperor since he is still in jail.
Leslie did respond to those comments by calmy stating. "The Emperor is frustrated, his internal problems that have come to light over the Nuclear facility has him redirecting attention to PBR. When I am elected I am sure we will meet and continue the long standing positive relationships between our two countries."



Candidate Leslie News Conference


From a undisclosed location Leslie Anne spoke about the difficulties in running a campaign when the leader of a nation is arresting his opposition.
"We are in hiding, we know that to some it looks as though it is a sign of weakness but it is not. We now have the protection of GI Fig and their forces. They have declared they will no longer support the Fred regime since information has leaked that Arbco Corp is a front for Cobra, the ruthless, terrorist organization determined to rule the legoworld."
"In the coming days we will be having a public press conference in Brockton to address the illegal arrest of Candidate Bob and the fact terrorists are running our PBR."
When asked for comment, Deed's office only stated.."We will be arresting all members of GI Fig as AWOL from the bricks they were studded to watch and disband the organization. We will form a new protection force with the help of our friends at Arbco."


Liftoff!


Vanguard launches into Space. A Historic day in PBR as the first figged space flight lifts off. Two figanauts become Heroes of the Brikpublic as they made orbit just 3 minutes after lifting off. The early morning launch was watched by a whole nation as hundreds of figs lined the beaches of the island nation to watch.
The two figanauts, Hardtop and Payload, will spend one week orbiting and observe the Lego World and now Universe.
President Deeds spoke after the launch and proclaimed the launch could not have happened without his foresight and leadership. At one point saying, "President Brik didn't have the bricks to send it into orbit." Candidate Anne, still in hiding, had a different opinion. "They launched a still in development ship to just gain votes, nothing more. We hope for the safe return of our figanauts and we also hope this does not escalate tensions in the Lego world."



Weapons Transport In Broad Daylight


A shocking develop in William's City as a missile is transported through the city streets. Armed guards from the Guard and Police are scene with the transport. Our sources indicate this missile was delivered to the same facility that has the PBR Vanguard, which was a known secret but is now set for launch this evening. Government officials have stated the launch of the first figged space flight is because of threats from the Caprica's over threatened attacks on suspected facilities.
Coud this be a nuclear missile?


Candidate Bob Arrested!


News broke this morning that PBR Police took Bob the King into custody late last night. Details are still coming out today but our understanding is Bob was involved in illegal brick financing for his campaign for President. Our inside sources indicate he was secretly buying support with 4073 bricks which are mined in PBR by "4073 Mining Corp" owned by Brock Brick.
Asked for comment Bob's campaign office stated this. "We feel this arrest is directly related to the Emperor of Legoland coming out in support of Bob. The
minifigtimes
reported this past weekend the Emperor David feels Bob is best suited to take over PBR. Our campaign office saw a outpouring of support since that new broke and we believe the Brown Shirts, under President Deed's order, arrested Bob and framed him."
President Deeds office blasted that comment with this reply. "That is utterly false and baseless, this investigation has been going on for some time, it is just pure coincidence that the article went to print the weekend we busted him."
Leslie Anne also had strong words for the President. "Corruption run wild. Fred is going to steal this election away and destroy this nation. Figs need to step forward and protest this illegal arrest of a good and honest Fig!" Our office had to have that statement sent via mail tile as Leslie Anne is in hiding out of fear for her freedom.
Pressed further, President Deed's office explained that the elections are still on schedule and they expect a landslide win.
Current polling numbers are. Leslie Anne 40%, Bob the King 35% and President Deeds 25%
Bob the King being arrested


Who Is Arbco?


Recently it was announced that
Arbco
had obtained the security contract for all PBR Government officials. This announcement comes days after the last of BlackBrik was disbanned and obsorbed into the PBR Military.
Arbco
has been in business in PBR since the
Summer of 2008
when it opened a small distribution plant in Williams City. Since then it has slowly grown into a large company supplying many different items to Figs of PBR and other Lego Countries. The companies board of directors are well known supporters of Fred Deeds, PBR's President. We suspect they pushed hard to have Blackbrik abolished so they could gain favor in Military circles.
Started as a cleaning products company it has now expanded into furniture, moving and moving equipment, storage, bricks and recently private military contracting.
Asked for comment, the Presidents spokesperson only stated; "Arbco went through the proper channels to obtain the protection detail for our President."


Polling Numbers In


With the House of Senate finalizing the election details the polling numbers for the three candidates are coming in. The official final vote by figs will occur on Sept 1st. With a small lead Leslie Anne has 41% of the potential votes, Fred Deeds at 39% and Bob the King at %20. President Deeds was furious with the data and has called it "rigged by Brik holdouts" and demanded a investigation be done. Leslie and Bob both agreed that it looks like figs are voicing their displeasure with Fred. Many pundits agree that Bob is only in the race to pull votes away from Fred.
In other news, the last of BlackBrik was taken into custody today. Holdouts who refused to stand down and join the PBR Military were arrested earlier this week. With BlackBrik gone President Deeds announced the Arbco Corp would now be supplying security to Government Officials. GI Fig is now a "reserve" unit and will be called up if needed. Reports are that General Hawk of GI Fig was extremely displeased to hear that.
Candidates at debate
Blackbrik Arrested



Overcrowded PBR


As elections heat up one issue that isn't getting much attention is the over crowding in PBR. William City and Brockton are overflowing with figs and vehicles. Outlying lands are restricted to expansion by regulation. President Deeds has announced that he would not expand PBR, that we build up not out. Bob the King has mentioned invading a mega-block nation somewhere, somehow. Candidate Anne has brought up the idea of expansion on the small outlying islands that surround PBR. Some of the islands around PBR are just as large and are owned by the country.
President Deeds believes the costs would be so large it would bankrupt the city and cause a depression. He is working to push a law through the House of Senate to ban all outlying island expansion. Some are calling this a misuse of power.
Downtown William City




President Deeds Acts


As Promised, President Deeds today took possession of the late President Brik's summer home in Brockton. A statement was released from the Presidents office which stated, "We will be moving the House of Senate, Military Command, Police Services and the President's office to this location. All branches and offices of Government will be in this central location."
Candidate for President Leslie Anne had this to say. "Fred Deeds has shown he will be a totalitarian dictator of PBR. This move, as all his moves so far, have been planned to give him total control over the figsPBR. President Brik may have owned the nation, but he let his figs think for themselves and let the Government run by Democratic vote. He only stepped in when it was needed."
Bob the King only stated. "I wonder if he found the 'Great Seal of PBR' yet?" Which if readers recall is the Seal that gives its owner total and complete ownership of PBR. President Brik is rumored to have taken it with him on his final flight.


Bob The King Back For More.


A surprise announcement this morning as Bob the King, former ruler of PBR, has announced his run for President. Many will remember Bob as a kind and just ruler who could never really get it right. He had the backing of former President Brik who financed many of Bob's adventures. When Brik took the reigns as ruler he made sure to take care of Bob and put him up in a wonderful Castle in the rural area of PBR.
Bob the King has stated he is frustrated with acting President Deeds, calling him "totally brickdead" and "couldn't click two one-by-ones together." Bob went on to state that by throwing his hat in the ring he hopes to pull more votes away from Deeds and bump him right out of the contest. When asked about Candidate Anne, Bob stated; "She is a wonderful leader, she worked in Brik's offices and behind the scenes, she won't let people know it but she really ran the country. She is the brains behind Brik's fortune."
Bob went on to state he was the leader when PBR branched out and met other nations, mainly the Empire of Legoland. He believes his vast knowledge of the Lego World makes him the perfect choice for President.
Asked for comment, President Deeds stated, "Bob is a relic of a past time. He screwed up royally, pun intended, and wants to go back to a time of spears and swords."
A Interesting Lego Nation Coming Soon?
PBR News rarely, if ever, would link to a unknown place we are linking to now but the information we are showing in the video below breaks new ground for Lego Nations around the Lego World. We fully support the Heroes of this story and wish them nothing but the best.





Candidates for President


Acting President Deeds has announced he will run for office. Also, Leslie Anne, a well known fig in PBR has also announced she will run for the office of President of PBR. More candidates are expected in the coming days. The House of Senate has announced that July 1st is the last day for tossing their brick into the ring for the Presidency.
PRB News is expecting only one, possibly two, more candidates to announce before the deadline. Figs throughout PBR have been reporting violence in the outlying areas towards anyone who has openly talked about running for office. Military officials have announced they are pulling their support from Acting President Deeds as they see him as a hindrance to relations with the other Lego Nations.
Election details can be found by clicking the "Elections 2013" tab above.




Caprica's Winston Spencer Throws Down On PBR


In a blazing speech yesterday Winston Spencer, First Minister of Caprica spoke at great lenght and called the PBR Government a "mongrel" in regards to how it is treated by the Empire of Legoland. It is no secret that PBR is apart of the Axis which includes Legoland and Legopolis. Our reporting indicates that the Caprica Government may be upset over the sharing of intel information concerning the Caprica's and its talks with Legoland.

At one point in the speech Mr. Spencer mentioned "THEY show themselves to be pathetic examples to the future of all LEGO." This is a troubling statement to hear considering our investigative reporting shows that the Caprica's openly use Clone bricks in the Military designs.

Asked for comment, Acting President Deeds office replied only with this statement.

"We have gone through trumatic times, our Country is in turmoil, leaks are occuring due to different factions in the Government vying for power. We feel the upcoming election cycle will be about only a few issues. Pro-Caprica vs. Pro Empire being the major issue. Many figs lean different ways. We hope international brick relations are not strained during this time. We wish to keep open and honest communication with all Lego nations."

The full speech can be found here, http://capricagov.blogspot.co.uk/ . Please visit their site and read more about the Lego nation known as the Caprica's.


Pres Brik Funeral


Today a Fignation mourned the loss of their President. Figs by the Hundreds came out to pay their last respects to President Brik. A simple, black casket on a horse drawn carriage took the empty casket through the streets of William City and to BlackBrik HQ. There, the casket will remain until the body of Pres Brik can be found. After weeks of searching neither the President or his two escort Pilots have been located but the House of Senate declared President Brik dead earlier this week. It was announced yesterday that a statue in honor of the President will be erected in a short time.

Sources inside PBR Government leaked that the three planes were taken down by a "EMP Weapon" or Electromagnetic Pulse Weapon. Data recovered from the three downed craft show all three suffered complete power loss at the same time. So far no Fignation or enemy of PBR has taken responsibility for the actions.

In the coming weeks Acting President Deeds will declare election season open, candidates will be allowed to file bricks and begin campainging. Depending on the amount of candidates there should be a few Primary Elections to shrink the field down to possibly three candidates and then a majority vote will eliminate one of those three and a final vote on the remaining two.





A Leaderless Nation


As we go from a Rescue to a Recovery for President Brik a country looks for answers. Government officials meet with figs of PBR to discuss the course of action to take next. President Brik was the Supreme Leader of PBR, holding the "Great Seal of PBR" he was the official owner of the entire island. Now that he is missing and presumed dead figs wonder what is next. The House of Senate was a puppet to Brik, he ordered them to do his bidding. Now they are in charge and haven't a clue as to what they are suppose to do. Figs have stopped working, stopped building, stopped clicking bricks together because they don't know what will happen next.

Leaders around the Lego world continue to show support and offer assistance but frankly, no one knows what to do with that assistance. Troubling times for a nation that was poised to become a Super Power.

Unofficial comments suggest that a quick election may be held to promote a leader to the Nation. Where will the possible candidates come from, politically? Who would they align themselves with? Will they continue to support the Axis or decide to Ally with the Caprica's? Or would they become independent and not align themselves with any nation?

Nervous Figs wait to find out.




Crash Site Found, A Country In Turmoil

Late this afternoon reports started leaking from PBR Military that the crash site of Pres. Brik was found. Anonymous sources indicate the President was not found. They continued to say that by this time tomorrow the "rescue" will turn into a "recovery" mission.

This news rocks a Country that is just emerging as a Super Power in the Lego world. The Caprica News has indicated the possibility of the Empire shooting down the President. Sources in the Empire indicate that no acts of violence were taken against our President.

Figs of PBR have mixed emotions, some stating it is no surpsrise the Playboy President crashed his plane and others believing it is a Act of War from a unidentified enemy.

leaked crash site photo,





President Brik Missing, Presumed Dead!


Shocking news is coming out of the Government offices of PBR. President Briks personal plane is missing and presumed crashed in the Ocean. The President was flying himself to the funeral of Ambassador Groons which was being held in the Legoland Empire. Details are sketchy at this time and we are only getting leaked information out of the Government offices. Brik was half way into his flight when radar contact with his plane was lost. Two X-30 fighters were escorting the President but they are also missing at this time.

Weather was a factor this week and the President was flying through a area that was expected to be stormy but with no official response we are only speculating. Some rumors are flying that his plane was possibly shot down, it may have went off course during the storm or had a radar malfunction and flew into areas it wasn't suppose to be in. It has also been leaked that the theory of a preemptive attack by a unknown source could have taken down the Presidents plane. How the two X-30's didn't call in for support or they were being attacked we do not know.

Brik is a accomplished pilot and has flown for years but this was his first flight by himself to the Empire. In recent weeks the Presidents actions have been very different from years past and he has taken risks that many feel has put his country in peril.

As details are released we will update our story. Please stay tuned.

file photo below of the Presidents plane, a #6673 Solo Trainer, modified, built in 1990


Censorship!
Claiming we the press are giving away State Secrets in a astounding move the PBR Government demanded we remove the photo released previously of a unidentified Rocket that was seen in PBR's 'Area 42'. PBR wrote a sternly worded letter to BrickNews demanding the photo be taken down. Citing our freedom of the press we refused to do such a thing. Hours later our servers hosting our photos was hacked by a unidentified person or persons and the photo disappeared. This news office believes the PBR government accessed and took down the photo. We will be going to the House of Senate with a demand that this hacking be investigated by a independent council. In the past weeks the actions by President Brik has brough great concern to the figs of PBR and to this news page. We asked multiple times for a statement but the official response was "We know nothing of which you speak."

We will continue to investigate this situation.



Spy Photos


Could this grainy photo shot by a snooping reporter be PBR's "Ace in the Hole" for international relations. As the Fig Countries around the Lego World expand militarily PBR looks to quickly catch up by sending a manned space flight into orbit. No details have been released by the Government and officials contacted have denied the existence of any space program.

The photos were snapped outside a Military installation code named "Area 42" which is also denied to exist by the PBR Government. It amazes the reporting world that PBR believes this will stay a secret. Just the size alone should be easily noticeable by any Satellites orbiting PBR. If it lifts off the world will know that PBR is now on par with the Super Powers of the Lego World.

How this Ship is equipped is a mystery. No experts can determine if it is armed, if it is carrying any weapon systems or if it can even get into orbit. It is no secret that PBR has in the past had nuclear weapons. During the Theme conflict the only known nuke in PBR was detonated on the small island South of the mainland. The devastation was large but not as powerful as expected, being a very low yeild weapon that some called a "Dirty Bomb." PBR has never commented if it has any remaining nuclear devices.





In other news, President Brik returned from his vacation many days later than expected. His office reported that he had a wonderful stay in Legoland and partied like a rock star at many choice locations in Davidium. His office denied reports that the President meet with Legoland officials and only stated "Brik just wanted to party where he would not be recognized.





PBR falls behind the Arms Race


The Brikpublic continues to be a 2nd Legoworld Country as it lags behind the rest of the Lego nations. At the minifigtimes.com the Empire unvieled its new Tiger T2 Heavy Tank to its public. As figs around PBR wonder "where the heck is our tanks?" In all the years the fig nation has existed only a few select armored vehicles have been used in conflicts. Most all of those being of someones design that PBR stole or purchased.

When contacted for comment the Government office only stated "President Brik is flying out today on a two day vacation. After a long and grueling week of work at the Peace Summit and running PBR he felt the need to take a break." Rumor is the President has flown to the newly named city 'Davidium', in Legoland, to party with the elite.

Figs in Brockton were asked their thoughts on the recent events. Bob Bricker, a 4073 miner, voiced his opinion. 'PBR is turning into a Banana Republic, and our President is off partying while I mine away for him."


Mar 9th 2013 Peace Summit Ends


As reported earlier the 8 day Summit ended today. All parties safely returned to their respective homes. Reports are vague as to deals brokered and decisions made. A few positives are the exchange of diplomats for the Caprica's and PBR. It also looks like War has been averted, for now. The Caprica's and Legoland seem to have backed down at this time. Government officials released this photo of our President with two unnamed figs who attended the Summit. On the left is the gentleman from Caprica' and on the right is the gentleman from Legoland.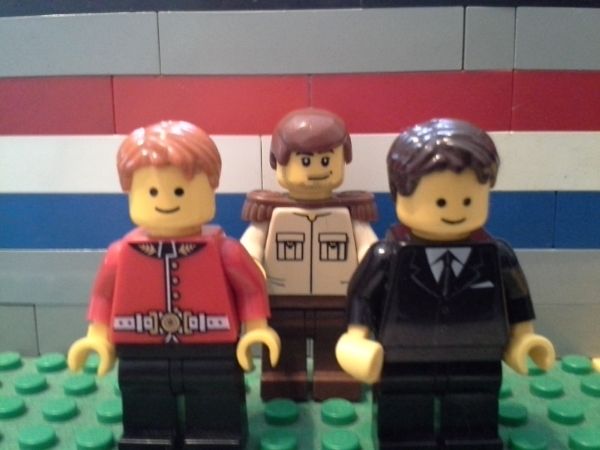 Government officials only released this statement, 'We feel progress was made, we got to know our allies in the world of figs even better. Signing two Non-Aggression pacts in one day was a momunmental success and avoids PBR being drawn into a conflict at a time it needs to rebuild from years of civil war.'

Reports are not so kind. Many explain the Brik hosted a lavish party, plotted amongst new friends and this will mean more money spent overseas instead of on needed infrastructure in PBR.




Mar 6th 2013, Peace Summit to End


Rumors have it the "Peace Summit" in PBR will end. Reports indicate that all parties have generally got something done but figs involved have stated "It was just a party for the elite". Government officials smashed that statement and the official response can be seen on this website under "Official Government Statements". One thing that has come from it all is a separation of News and Government. PBR officials claim that all nations involved will make separate areas in their respective websites so no confusion arises from what is reported by the media and what is "official" statements.

PBR media outlets are furious, many stating that it looks as though the media is being blamed for the miscommunication between the nations.



Mar 2013 PBR previews its latest project


Even as tensions are high with peace talks, talks of War and talks of diplomacy the regular day to day life of PBR goes on.

Pictured below is the finished work of a unknown ship which was found off the shores of PBR. Historians say it could be one of the first ships to have landed at PBR centuries ago. Where it came from, how it was sunk and why it was lost for so long is the mystery that has the island nation talking. PBR shipyards painstakingly rebuilt the ship and all the costs were covered by President Brik. The shipyards used computer imaging of the wreck to determine what it looked like when it sailed the Seas.

Now that it is complete plans for a celebration will begin. Historians are still looking through records and talking with other countries to try and figure out the ships origin, and why it was sunk just off the shores of PBR.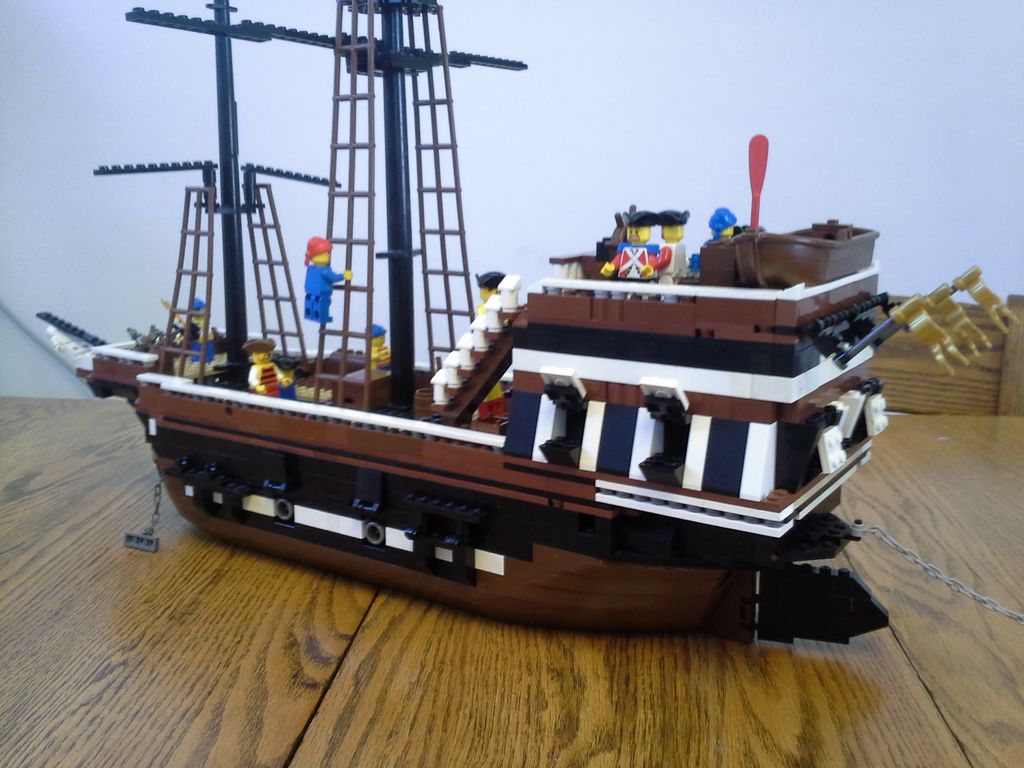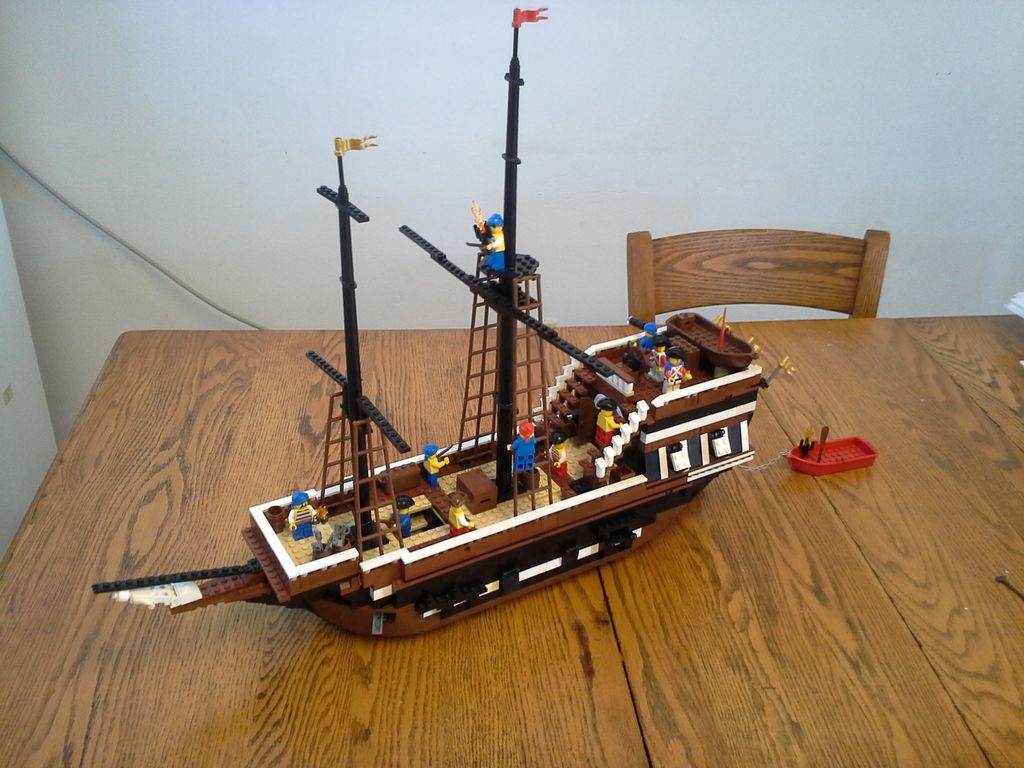 Shocking information was leaked to PBR this past week. Reports coming from the Empire of Legoland show that the Caprican Empire doesn't have the military might to actually go to War with the Empire. In the documents there is discussion of setting up embassies in each respective nation. Quoted below is the glaring omission by the Caprica's.



"We also found out via our intelligence agencies that Speilzeugeland were massing huge millitary forces around our embassy. Caprica has no army only a small defence force, we were shocked by their bully tactics! Under a mutual agreement, Embassies could be opened in Legoland and Caprica."

This information was leaked this week to us and we were given permission to report on it. Could it all be counter-information to throw off everyone? Could it be a way to draw the Empire of Legoland into conflict so as the Caprica's could showcase its large military force? Or could it be the cold hard truth, that the Caprica's have a small military, much like PBR?


More information will be coming this weekend as we expect the Caprica's to announce their five-step peace plan.



Feb 26th, 2013 War Drums Still Banging.


As Peace talks start in PBR it seems War is still on the horizon. The Caprican Empire was first with its opening statement. This statement had the PBR President hopeful that he could be the one who brokered peace between two nations. The President was seen drinking and happy until the Legoland Empire's statement was released earlier today.


http://www.minifigtimes.com/articles/2013/Summit-Address.pdf


After the statement was read the President was seen moving to private quarters and his Secretary of Defense was seen leaving in a motorcade towards Brikpublic HQ. Rumors are flying as the Caprican Empire was quoted as saying

"This is becoming a farce! I hope the Brickpublic as Chair will suitably reprimand Legoland's declaration of war as a total mockery of a Peace Summit! Caprica will be responding this weekend with its five point plan of peace!"


As of this writing PBR has released no official statement....


pictured below is President Brik seen meeting with the General of Blackbrik during the Peace Summit.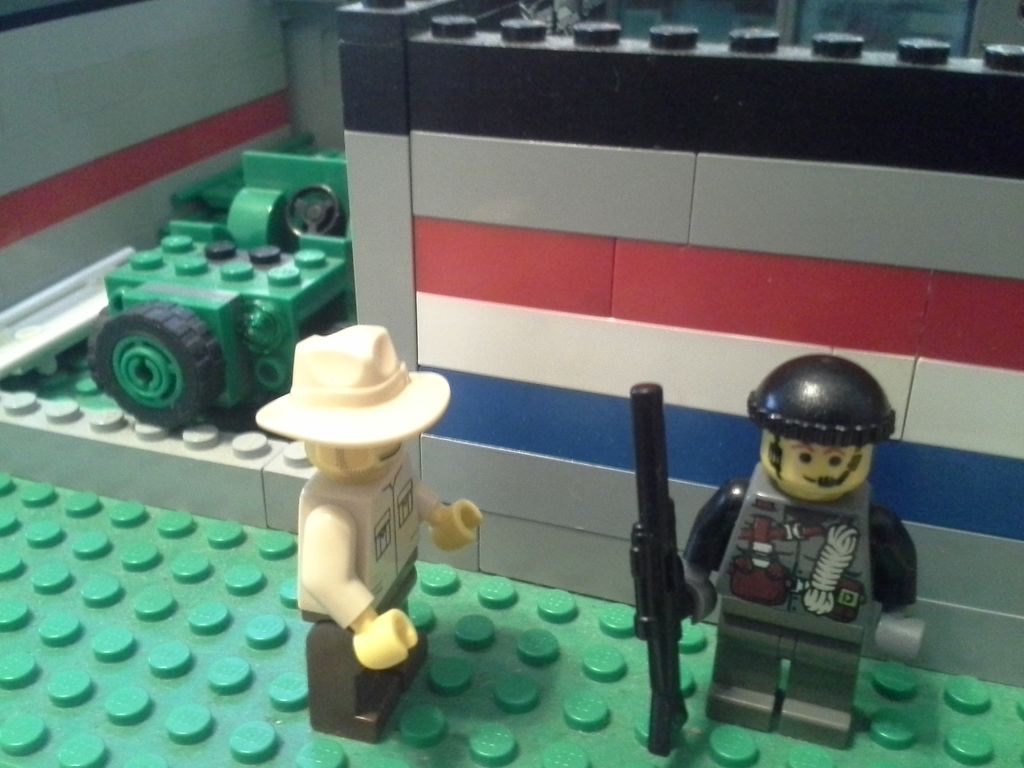 Feb 23rd 2013

Tensions are still high but there is a glimmer of hope that peace can still be achieved. In a dramatic move the nation of PBR is scheduled to host a Peace Summit at a undisclosed location in PBR. Many analyst expect this summit to be held at the "secret" base known to figs as "Area 42".

Even as both The Empire of Legoland and the Caprica's send their rerespective diplomats and personnel to PBR the war drums still beat. In a dramatic move the Caprican Empire
sent their Navy to sea. Three Type 42 Stealth Destroyers, HIMSs Defiance, Crown Prince and Protector have left the Naval Port of Ivanhoe in Anglesia.

Fears are also rising since it is clear from the Caprican news that their Empire possesses Nuclear Weapons. This dramatic news troubles many figs since PBR has witnessed the destruction they can cause. Years ago in the Theme War a small Nuclear device was detonated, decimating a small part of the Island nation. Just now that region is coming back to life after a long clean up was finished by Brikpublic Armed Forces.

When asked if PBR still possesses such weapons the Defense spokesfig said; "We may, we may not, our military capabilities aren't discussed in public."

The Peace Summit is expected to start this Sunday, the 24th, and go on for as long as needed, if both Empires can come to a agreement on solving their differences.

Pictured below are two heavy transport aircraft spotted leaving PBR, escorted by two X-30 fighters. This pair of flights are to bring/escort the two Empires back to PBR. Never before has the government allowed a outside nation to fly military aircraft into our island nation.

Figs in PBR hope for the best, but fear and are planning for the worst.



Feb 21st 2013

Reports from the Presidents office are coming out today. After a 24 hour long meeting with Finance, Police, Defense, Commerce and Diplomats the announcement came this morning.


President Brik's spokesfig announced that PBR will back the Empire of Legoland fully and without question or hesitation. The spokesfig released this photo of the meeting in the Presidents office. Seen wearing his black tailored suit is Mr. Samuel Archimold, Representative of the Empire.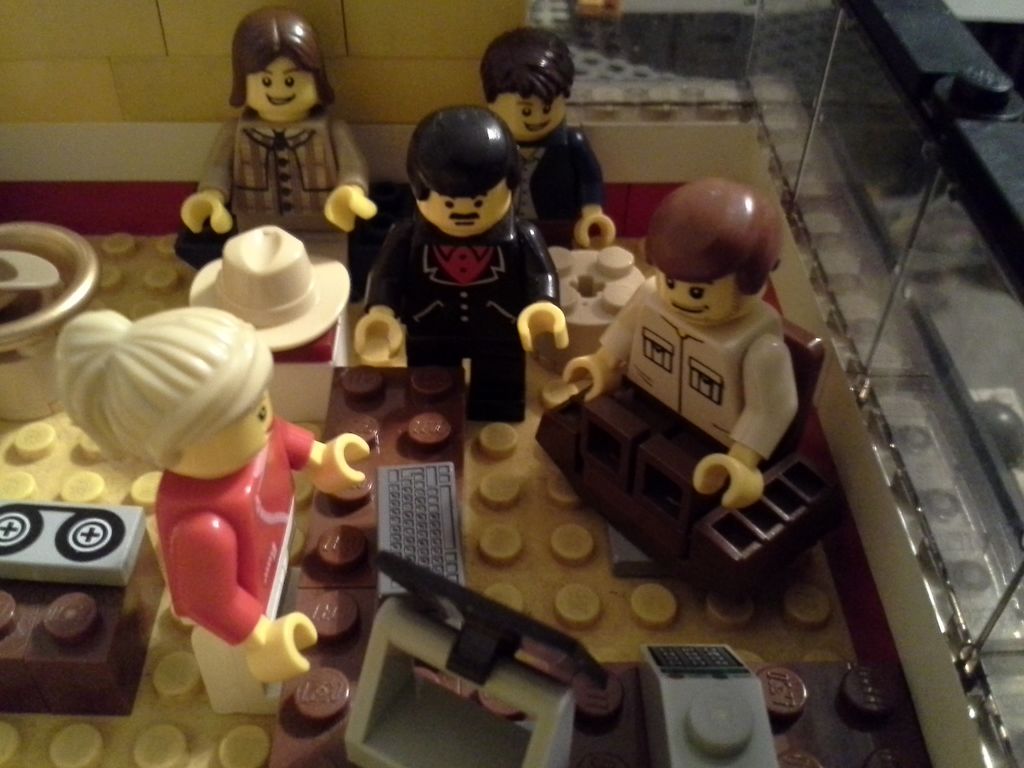 During the 24 hour meeting the President and Mr. Archimold went into a private session for one hour. After they emerged it was clear that PBR was backing the Empire.

After the meeting was over it was noted that the PBR National Guard went on high alert, the PBR Freedom set sail and the PBR Air Force was also seen fitting its fighters with live munitions. When asked about this uptick in military movements the Government stated "No Comment".

A short statement from the President also condemned the Caprica Nation. "They are overstepping bricks and should know their actions toward the Empire of Legoland will not be tolerated by PBR."

President Brik is also contacting Emperor David personally to let him know PBR is there if needed.

Feb 2013 WAR?

For once in its short existence, the country of PBR is not involved in a conflict. Brewing overseas is a conflict between two nations that PBR considers, "Allies and Friends", according to the newly established "House of Senate" and the President himself, William Brik.


The conflict seems to have started over a supposed "slave trade" or immigration of Figs from Legoland to the Caprican Empire. These two grand countries seem to be inching closer to armed conflict. The Government of PBR has reiterated that at this time it is not involved nor taking sides and has guaranteed the safety of the Legoland Diplomat who has been in PBR for years. He is staying with the President in the main compound of BlackBrik. The Presidents personal armed forces.

Even though the President has said PBR is not involved or taking sides the armed forces of PBR have been taken from DEFCON 4 all the way to DEFCON 2....When asked, the spokefig for the Military said "We are just making sure we don't get caught with our pants down".

Both sides opinions on the conflict can be read here, http://www.minifigtimes.com/ and http://capricanempire.blogspot.ie/


Feb 2013


Aerial shots of the Castle grounds which are located at the outskirts of Williams City. The area is a recreational spot very popular with the Figs of PBR. The Mining in the area has been a sore spot with locals who say it is destroying the natural beauty of the area. Those same locals are also upset a mansion was built in the park area. A well know Billionaire owns the home and has been known to associate with President Brik.


The Mining and Mansion in this small, quiet area has support for the President at its lowest since he took over a struggling PBR. Many Figs say he is rewarding his corporate friends and rich associates who have helped grow the PBR economy in the last year.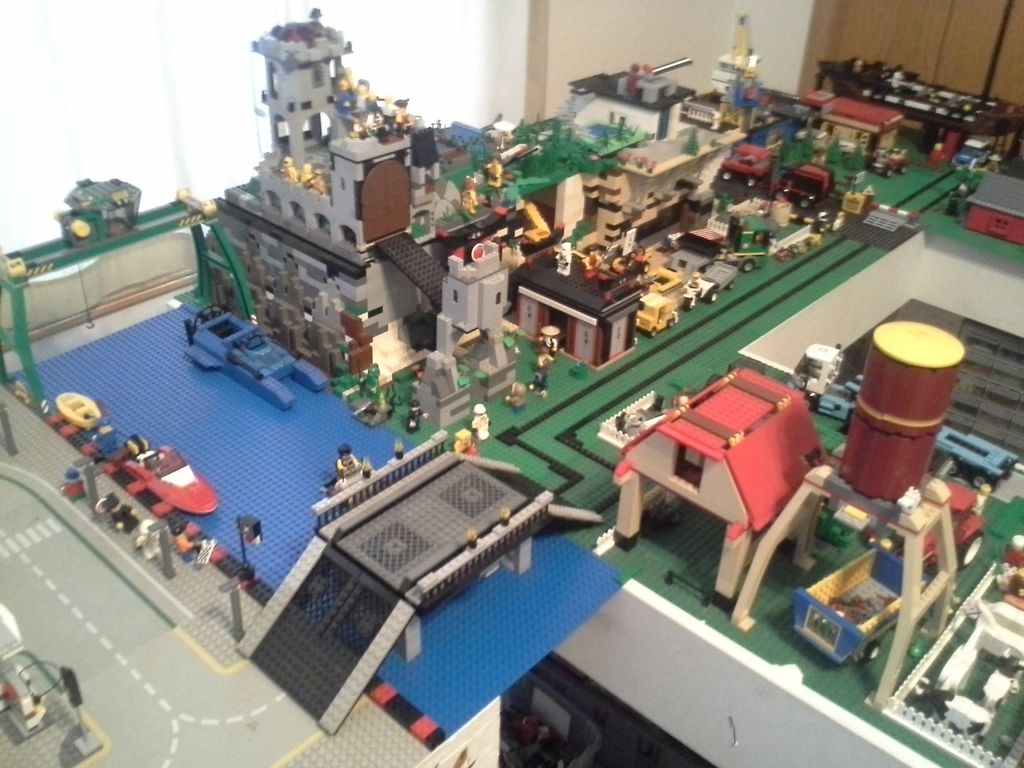 Jan 2013

The Capitol city of Williamstown presented its newly finished parking garage today. City engineers called it a "step forward" in solving the overcrowding situation that is starting to cause headaches throughout PBR.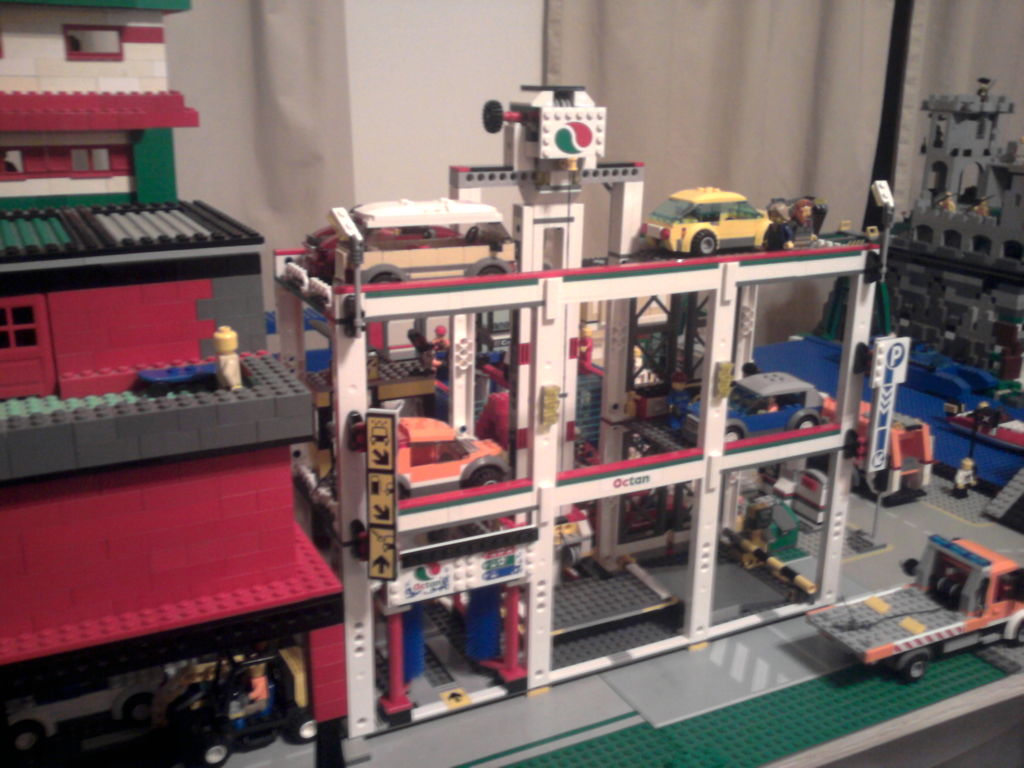 news the President is fast tracking projects to public release. In the coming weeks a ancient pirate ship will be finished and a old castle will be opened up and the public will be allowed access.


Dec 2012



A new name and a rebirth. The old is out, The People's Brikpublic is the new name for the old PBR. President Brik announced in a Executive Order that the country would be renamed. With the name change the abbreviation "PBR" will remain in affect.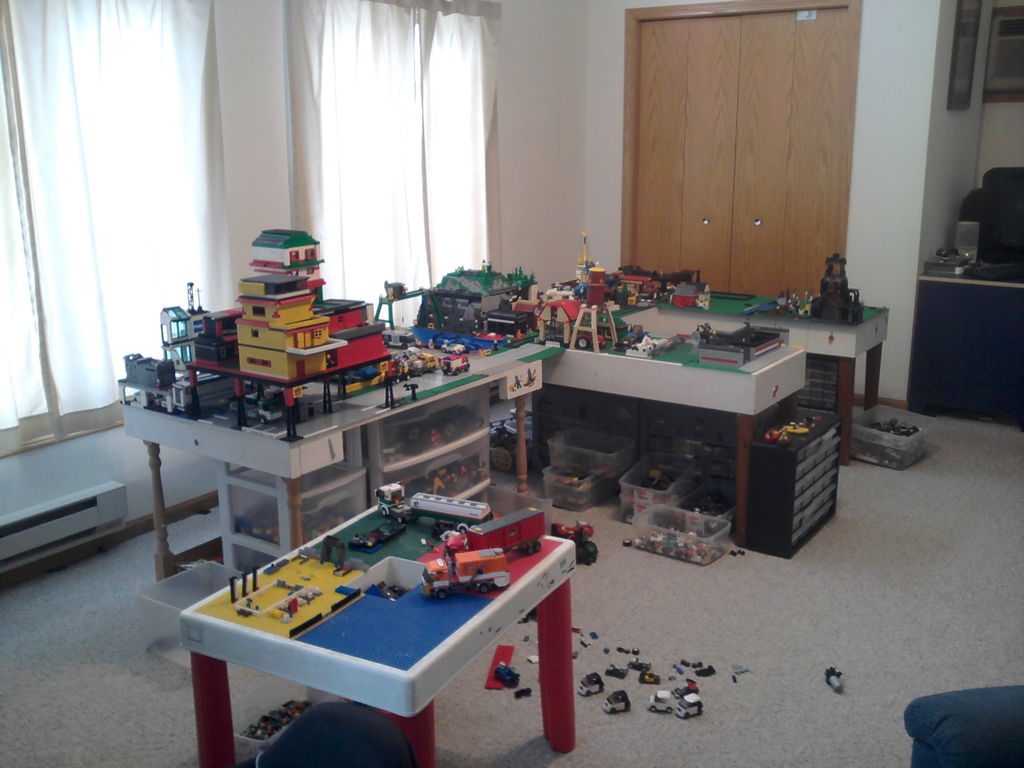 The President was to close the archives and stop allowing the public figs to view the history of the Brikpublic but overwhelming demand and protests from the figs of the Brikpublic changed his mind very quickly. This uprising is the first trouble the President has seen since taking over in 2011. The entire year of 2012 was very calm with hardly any news reported.
Dec '11 News
As the year comes to a close and the Holidays a week away news in PBR is positive after months of tension throughout the nation. Pictured below is one of the hidden gems of PBR. High atop Mount Brick lies a small community that has stayed true to its ancestral roots. The Ninjago Tribe of Minifigs has been on the Island for years, going under different set names in the past, and is just now opening its doors to the rest of PBR. Figs throughout PBR and the world can now visit this small village of Ninjas. This new opportunity brings a boost to the tourism industry of PBR.

In other news. The Clone Brigade that went rogue was "lost at Sea" according to the PBR Government. Representatives that wish to remain anonymous said the ship carrying them was lost in a violent storm and remains have not been recovered. Fleshies in PBR remain skeptical but violence that had broken out in the past months has died down since more and more fleshies were rounded up and imprisoned for their actions. When asked if this had anything to do with Legoland's disinterest in PBR military assistance the Governments reaction was "No comment". Many will recall the Presidents own private army Blackbrick, went out in search of the Clone Brigade. That Army returned shortly after news broke the Clone Brigade was lost at Sea.

With another Military conflict a