The Right Stuff


The crew of the first lunar mission were all smiles as they took a pre-mission photo together this week. The "Red Shirt Brigade" as they have called themselves. They are the first mission ready 80's space figs from the rejected space program purchased early this spring. They have been cleaned, refitted and retrained for their first mission in 30+ years.
"They are veterans, they have survived everything thrown at them and then some. The risks involved with this mission make them the perfect choice. Nothing ever goes wrong for a red shirt." Commander Benny commented during the photo shoot.
The mission itself is still not scheduled for launch as final preparations are being made to the
PBR Future
so it can haul the lunar lander.

Smoke and Mirror Space Program


The photo below and a anonymous source in the space theme program tells a tale of smoke and mirrors in a fledgling space program. Our investigative reporter. Studado Geraldo, dug deep and learned that the entire space program is months, if not years behind their claims. The craft pictured below is a lunar lander that would be attached to the the
PBR Future
. The
Future
gets into space via the
Vanguard II
heavy lift rocket. Our source in the Space Theme Program has verified that is the only way PBR can make it into orbit. We were shown detailed files and emails that the
PBR Executioner
program is not even close to making it to the launch pad. "The Exec has almost shot itself in the head" was what one email read. Others went on to say they have not perfected a drive system to get such a large craft with a large cargo into orbit.
We contacted officials in the space program but they declined to speak on the record about the
Executioner
part of the program. We did get confirmation that the photo we have is of a lunar lander. It will be attached to the Future and one Fignaut will operate it.
Studado Geraldo has asked for a official interview with the leadership of the space program to clarify where the bricks of PBR are being clicked and why so much effort is going into shooting figs into space when the outer islands still haven't been inhabited.
PBR Executioner Mk-II Prepares for liftoff


The Space program prepares another ship. The Mk-II gives the program a larger fignaut capacity and the ability to transport equipment and satellites. Rumors in PBR is they will offer room for allied nations to send figs up with PBR fignauts. Each nation will be given a uniform color representing their nation. Officials will be allowing nations to send a application this month as it plans a space station and prepares for a Moon landing.
The Mk-I or Mk-II have yet to be launched into space and no dates have been released for future launches. The
PBR Future
is the only ship that has continuously traveled into space.


Fishing Industry Booming


Up %20 since the fall, fishing in the island group of PBR has brought a needed boost to the economic well being of the nation. Hiring is up, firing is down and bricks are being dusted off and sent out to the blue plates for a assorted color of fish. Hull bricks were brought out of storage and figs who at one time took of rifles to fight a war are now grabbing nets and fishing poles and taking the fight to the seas.


Rejected Space Program Lands in PBR


Buying it for .05 on the dollar the director of PBR Space, Commander Benny, acquired a entire space program from a old but defunct and broke Lego nation located in a obscure part of the Lego world. No details are available about this nation but sources in PBR say it is a old nation that went into a "dark ages" and just stop snapping bricks together. The program is rather large but it is old.
Acquired in the buy, rumored to be bought for as little as 20$M, are the following ships and vehicles. 1557, 6803, 6805 (2), 6823, 6828, 6846, 6847, 6881, 6882, 6891, 6828, 6880, 6931 (2), 6941, 6951, 6952, 6954, 6971, 6972, 6980. This impressive haul is old but completely functional with all blueprints and technical data included with each vehicle.
Skeptics though say it is so outdated they wonder if it will even be feasible to give up more island space for another of Brik's wild ideas. The
PBR Executioner Mk-I
hasn't even lifted off yet and there are no launch dates set. One brick expert who wished to remain anonymous mentioned the lack of a specific launch vehicle to get some of these giant vehicles and bases onto whatever planet or moon PBR is going to explore. "They don't have a plan, they are spending PBR dollars on silly dreams to try and compete with major Lego nations. We are still a 2nd brick nation hoping some Friends stop down to tour our beaches."
Commander Benny issued just a short statement "We have a fleet of spaceships, nothing will stop us now. PBR will be the nation to go to for space travel."
Heavy equipment sorts bricks from the purchase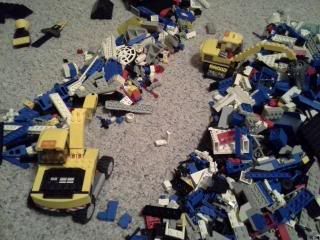 Police request new facilities


With the expansion of the police figs force to over 40 officers the Chief of Figs, Good/Bad has request new facilities. The current facility is old and missing bricks, it has become over crowded with two cells holding 10 figs each, the offices for law enforcement figs are too small to house all the detectives. With the expansions on the outer islands coming very soon the request for new facilities creates another financial burden on the PBR economy. Economists stated that plate acquisition is first and formost for the nation to lay the ground work for the growth of the nation. After the plate expansion is complete shipping and transport for exports are next on the list. Police Figs are being told to use what they can, work from their brick cruisers and try to be patient.

To The Stars Feb '14


Government officials were pleased to show off the new shuttle transports ship. The
PBR Executioner Mk-I
was set up for public viewing today. This ship is expected to be the first of many for intergalactic Lego travel. Specific technical details are not being released but we have been told the "front ship" has a crew capacity of 6. The shuttle has a crew of 3 and the center section cargo area can transport a abundance of bricks. The rear engines can articulate for landing in any area. Such a massive undertaking has been rumored to deplete the brick count of PBR. Imports of new bricks at a cost exceeding its budget is expected in the next few months to replenish the used bricks. With space on PBR's mind, expansion to the outer islands we hope the governments budget doesn't burst at the seems causing problems for figs. Regardless, PBR is winning the space race in the Lego world.
PBR Executioner Mk-I



Secret Police debuts


President King announced to the public that the Super Secret Police will oversee the safety of figs throughout the islands of PBR. With expansion to the outer islands more police are needed to secure the public. The SSP will oversee all police figs and report to the presidency.
Figs are skeptical, they fear they won't be able to step on a brick without permission. Spokefig for the SSP only stated. "We are sure it works elsewhere or we wouldn't have them here. Sure, they look like robots but they are figs none the less." We are sure it will make for a awesome experience for figs in PBR.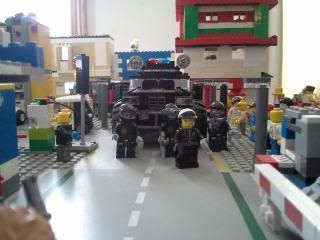 Ambassador Archimold with SC Brik


Even though the official PBR statement says it was a game of checkers our reporters followed Mr. Achimold after leaving President King's office and took this photo of the ambassador entering SC Brik's building in Williams City.
This is the first time in weeks the chancellor has been seen in public and it is with the Legoland ambassador. Two meetings back to back with senior PBR officials leaves many wondering what is going on with international affairs? Could more war be brewing? Is action being readied against other nations? Or is this just what the government has told us previously, that the ambassador is just visiting with PBR officials and enjoying catching up after the hectic, war torn, fall we have had?
Only time will tell as SC Brik's office would refuse to comment on the ambassador even being there.



Ambassador Archimold called to President King's office


Sources in the PBR government leaked a "demand for meeting" memo that was sent from President King's office to the office of Diplomat Samuel Archimold who represents the Empire of Legoland. The memo had no clear reason other than the President demanded a immediate meeting. Mr. Archimold, file photo below, was seen going in to the Presidents office and did not come out for a hour. Speculation is rampant about what could have been discussed. The Empire and PBR have had a strong relationship since meeting and our sources suspect it concerns international affairs affecting both nations.


Extensive Enterprises expands


Late yesterday
Tomax and Xamot, CEO's of EE, were given loans from City Bank to expand and develop a new town near the west coast of the main island. The town is to be called "Springfield" and expansion is expected to begin in 2014. Light rail and industrial areas are expected to be built in the area along with a farming community and a "rural" village. The CEO's only said "It will be a nice little town." as they left the bank.
Xamot, left and Tomax, right.

Leslie Anne appointed to House of Senate


In a move that critics are calling a appeasment, Leslie Anne was appointed to Fred Deed's old House of Senate seat. Bringing the number of Senators to five. It has not been made clear if this was a Executive Order from President King or a move by Supreme Chancellor Brik. Regardless of how she was appointed she is now the first female fig in a political position in PBR.
Her office was unavailable for comment at press time.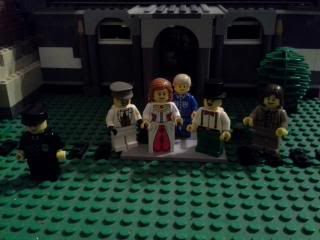 Leslie Anne Returns to PBR


In a surprise move Leslie Anne, once a candidate for President, returned to PBR and quickly threw together a press conference. Our reporters were there to catch her statement.
"I am pleased to be home, I will not discuss where out of respect for those who protected me during dangerous times. I was sad to leave but needed to return to help my beloved Nation. I am here to support a increase in female figs. Our Nation is lacking in female figs and I was told the female to male ratio is well above 10:1 ratio and needs to come down."
A surprise announcement to say the least. PBR officials have yet to respond to request for comment. We will continue to keep tabs on Leslie and see how her resettlement to PBR goes.
Leslie Anne surrounded by female figs of all themes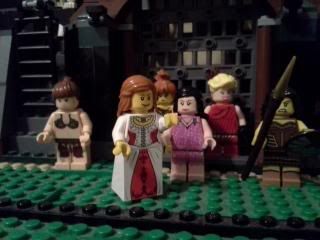 Leaked Photo of Cobra Island


With no description or details a source in the PBR Government released this photo to our news headquarters. When asked for comment PBR officials declined to go on record or acknowledge the existence of the photo. Our reporters contacted representatives of Cobra who stated it was a "Installation for defensive purpose only". How the photo was taken is also a mystery but with the
"Future"
being in orbit we can only guess the photo was leaked from the space center.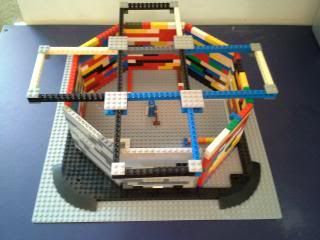 "Future" Lifts Off


PBR Future
, the new shuttle built by the Brikpublic, lifted off today for it mission in space. The timing of this launch could not have been better as the Empire of Legoland had a
ground breaking story releasing
data and opinion that all figs came from "the same brick".
The
Future
will study this theory in space on its mission, looking out into the Lego Universe for signs and data to back up the theory. President King announced he will direct efforts of the space program to share any data found with the Empire and support their future endeavors in Space.
Figs all over the island have said they are extremely pleased that PBR is shifting its efforts to science and the future of figs instead of all out War and anger towards other figs.
Some figs are wondering though if this is a joint science/military mission as the
Future
will have the ability to look down upon the bricks and figs of the world. It is expected that part of the mission will be checking in on Cobra, who hasn't been heard from since they took up residence on Cobra Island, located far West of the PBR island group.



P4 Skyhawk Prepares for Flight


PBR Military is proud to show off its latest fighter jet, the P4 Skyhawk. Production of this new fighter was started in response to the Civil War. Military analysts believe PBR's air and sea power is extremely lacking and needs upgrading to keep the pace with other Lego Nations. Gen. Hawk made this statement to the media.
"Our armor and infantry is top notch, proven by the 7 Day Civil War. PBR figs fight like no other, our armor held up well to constant attack but we lack in other areas."
The Skyhawk is a first of many expected airbrick upgrades PBR will be rolling out. It is also rumored that the military wants to upgrade its Naval force since it had to rely so heavily on other Lego nations previously.
P4 Skyhawk being fueled and armed


Brockton Almost Rebuilt


As quick as it was damaged Brockton is already on the rebound. Figs living in the area are happy but confused, as many thought they would be moving to one of the outer islands. The outer islands are slated to be inhabited by figs in the upcoming year. PBR officials have stated that the expansion is due to a expected population boom as the winter holiday's fast approach.
"I thought I'd get some new bricks on one of the outer islands but I guess I'm just getting my old bricks stacked back up? I'm not mad, I got my home back and the Government even gave me some extra bricks!". That was the statement a fig in Brockton gave us. That fig wished to remain anonymous. Not out of fear from PBR officials but from figs who are still waiting to get their bricks restacked after the Civil War.
When contacted for comment PBR officials clarified the new expansion.
"We will focus on heavy industry first and foremost, without infrastructure we can't rebuild homes or expand islands. We also need to focus on defense. Some of the outer islands will become military installations. PBR is lacking a large airfield to accomodate heavy aircraft and our naval forces are not up to snuff, which was made apparent during the Civil War."
Even though figs aren't getting luxury homes on islands the mood in PBR is still positive with so many bricks falling in their laps.


Com. Universe Shows Off Shuttle


Commander Universe was happy to show off the cargo section of the
PBR Future
this weekend. The Future is almost ready for launch. The exact time is not public information for security purposes. This Mission is expected to last for a few weeks with the
Future
taking time to properly map the PBR region for future expansion. PBR is expected to branch out to the outer islands and start placing figs that had property damage in the civil war into new brick homes as compensation for their lose.

Vanguard II, PBR Future, prepare for liftoff


Figs were excited to learn that the Vanguard space program is still alive and ready to fly off into space. President King was happy to show off pictures of the new
PBR Future
, the space shuttle designed by our very own figs in PBR. The
PBR Future
follows the Vanguard Capsule which sent the first PBR figs into space. This newly designed shuttle will become the backbone of the Brikpublic space program until future ships are built. The Shuttle program is expected to expand if this upcoming launch is successful. The
PBR Future
sits on the upgraded Vanguard II rocket system. Figanauts requested the ship be moved to the side of the rocket for safety and comfort. Payload, figanaut who was commander of the first capsule flight mentioned the ride he had previously.
"The capsule was a good first effort but it felt like you were riding on a wooden roller coaster built with mega blocks. This new shuttle program should be safer and cheaper since we can keep reusing the space shuttle.....if we don't break it...."



President King announced funding will not be coming out of the general brick budget but from private orginizations and businesses.
"Our own design is going up first but plans are in the works to purchase official Lego launch platforms and shuttles in the future, all with funding coming from Supreme Chancellor Brik and other well to do figs in PBR."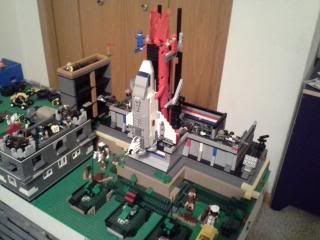 Brik in public


Since his capture and then release after the 7 Day War ended, Brik has only been seen being hauled on a stretcher for parts unknown. Today he was out in public talking with figs in the farming region near Brockton. Brik was determining the extent of the damage done to the crops during the War. He has pledged to compensate every farmer that has damage. That compensation will come from Brik's own pocket. He refused to speak with reporters but a spokesfig gave us this statement.
"Brik is still recovering, his right leg is still injured but his left hand has been replaced with a new, robotic
prosthetic. He wanted to get out and see the figs who suffered physically and financially during the War. President King announced Brik's finances were not property of the Brikpublic and returned them to Brik's account. Brik has promised to help rebuild the nation out of his own pocket. He will next be going to the Ninjago village in the mountains to heal, mentally and physically. Sensei Wu will be overseeing Brik's recovery.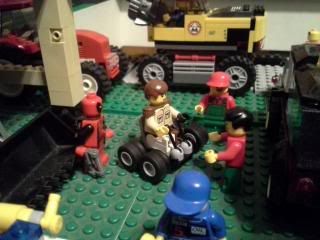 FNS Typhoon to dock in PBR


Following a victorious campaign in the 7 Day War the
FNS Typhoon
will be docking in Williams City this week. The
Typhoon
was the first Warship to enter PBR waters and Legopolis was the first to sign on to Allying with the FBA in their fight to free the country and Supreme Chancellor Brik from Deed's rule.
The
Typhoon
is the latest warship in the Legopolis fleet and its efforts during the war proved it is up to muster to fight anywhere and at anytime. The
Typhoon
will be docked for a undetermined amount of time. During its stay it is rumored that Brik will be visiting and dining with the Captain. Brik also declared that the ship will be refueled and restocked at no expense to Legopolis.
"It is the least we can do for them"
was the statement from his office.
President King's office released a statement welcoming the
Typhoon
to the docks and also welcoming the Sailors aboard to enjoy their stay in William's City, if they are allowed Liberty. King went on to say that extra Guards will be posted at the docks to insure the
Typhoon
has a safe and enjoyable stay. Also all Sailors ashore will be given free taxi service and dining at any of the open establishments in William's City.
"We hope they have fun, but not so much they get themselves in trouble with the Captain."
was word from President King.

Cobra Leaves PBR, 9-14-13



Early this morning Cobra set sail for Cobra Island, PBR agreed to allow them to take ownership of a island far West of PBR. Putting them at a safe distance militarily. Major Blood lead his ground forces aboard and were joined by the masked individual who has been photographed in the past with Fred Deeds. We know nothing of this hooded fig with the gold staff but we suspect he is in fact the leader of the entire Cobra Nation.
In other news, SC Brik is out of surgery and in recovery. His left hand was fitted with a prosthetic and it is rumored his legs were so damaged he will go through extensive rehab before walking again.


Brik freed, moved to secure location.


This afternoon figs in Williams City caught a glimpse of Brik being moved to a secure location in PBR. Escorted by President King and Mr. Archimold (diplomat, Empire of Legoland) the President made no comment to the press nor did he address the crowd. From the photo below it is obvious Brik's left hand has been severed as depicted in the photo released earlier this month that sparked the 7 day War. Brik is reported to be in good spirits and happy the War is over. He did release a statement clarifying that he is the "Supreme Chancellor" of PBR, holding absolute power, but will not wield that power in a way to hinder a free PBR.
Mr. Archimold was not available for comment but his office did tell us that everything is going according to plan and that the Armistice Aggreement is signed and is being properly handled.
Cobra figs were seen loading equipment and supplies at the one working dock in Williams City. The Armstice agreement clearly states they will be leaving the island. Analysts believe they will be taking the Northwest Island that at one point was the FBA HQ.
The War is Over!


In a round of talks spearheaded by the Empire of Legoland the FBA and Loyalist forces lead by Cobra have come to a agreement to end the Civil War. No details or specifics have been released but both sides have not fired a shot since late yesterday afternoon. The Naval fleet, made up of the Caprica's, Legopolis and Minifigrepublic, hasn't seen its ships fire a missile or main gun for 24 hours. Redfig helo's from the Minifigrepublic have been landing all over Williams city and figs are slowly returning from the countryside.
News spread fast that the conflict was resolved as we could see members of the construction fig union roll out equipment and quickly go to work resetting bricks and moving plates here and there. For the first time in seven days the market was open near the square.
Inside Williams City helo's have been taking off and landing all evening and as the sun comes up we learned that President Deed's has been taken into protective custody. Sources inside the government said that Deed's had no idea the conflict was being resolved, the talks were between Cobra and the FBA. Cobra forces stormed a massage parlor in Williams City and dragged Deed's out kicking and screaming. For a fig who was just arrested and lost power and a War, he looks like he just had a happy ending.
Seen with Deed's is Major Blood, ground force commander for the Loyalist, and Mr Samuel Archimold, Diplomat from the Empire of Legoland. Our sources also indicate that Mr. Archimold is overseeing the transition of power, distribution of bricks, and making sure the agreements are meet in full. We attempted to contact the Empire of Legoland for comment but have not heard back from them. We have also had no word yet on the condition, or whereabouts, of President Brik. We expect to find out what happened to him and if he is in fact alive.


Cease fire rumored in PBR


As the fog lifted this morning over a battered nation it is rumored a cease-fire is taking effect and there is the possibility that negotiations are taking place to end the War. All speculation at this time is that President Deed's has been taken into custody and that the Empire of Legoland has been in contact with both sides of the conflict.



Loyalists standing firm


Major Blood, Commander of Loyalist ground forces gives a quick interview to our report just North of Williams City today and assured the cameras and reporters that no FBA forces were in the area.
This comes as another night of heavy missiles strikes landed in and around Williams city. The barrage started around 9pm and lasted for fifteen minutes as explosions could be seen in and around the City. Reports indicate that just before the Missiles landed figs were seen running from the area of the attacks. Leaflets were picked up that indicated these were
'Pre-warned, precision, strategic bombing of designated military targets. Designed to neutralize opposition forces with minimum civilian casualties.'


As of this morning no civilian casualties were reported. Loyalist forces did not indicate or release any casualties figures but we did see a lot of activity at their medical facility, extra torso and legs were scattered on the grounds.
When dawn breaks in Williams city we will be able to determine if any of the missile strikes hit targets in the city. Loyalist troops were saying a school and church were hit in downtown Williams city but reporters have been unable to get into that area. There is smoke rising near the Police fig HQ.


Area 42 Exposed.


After heavy shelling damaged their HQ on the Northwest Island along with capturing Area 42 the FBA announced today that it is moving its HQ to the not-so-secret-secret facility. As bold of a move as this sounds, to announce your location, the facility is far enough away from current Loyalist Artillery that it cannot be hit. General Hawks office released this message.
"Loyalist forces have gone house to house, kicking down innocent figs bricks, trying to find us. We aren't hiding, here we are, ready to face you and bring legitimacy back to PBR courtesy of the FBA and its Allies."


Our analysts see it slightly different.
"Yes, it brings legitimacy to the FBA but it is also letting the Lego World know that they aren't going away. They want to be seen as a legitimate force, with a heavy amount of Allies backing them. A force that will end this Civil War with the business end of a 58247 Blaster or at the diplomacy table. We suspect there could be behind the scenes dealing going on to try and end this War before all that is left of PBR is a pile of bricks"


Fighting around government building intensifies.


FBA forces are bogged down in a fight for the Government building. This region West of Brockton was thought to be clear of Loyalist forces but as the FBA advanced they ran into a dug in defense force. This battle has put a hold on the expected front line offensive which was to push the Loyalist back and out of William City. No cruise missile strikes the last 24 hours has also slowed down the FBA push as it is becoming obvious that their lack of Naval and Air power would have been their undoing if it weren't for foreign support. Our warfare analyst had this to add.
"FBA knows they are outmatched by Loyalist forces when it comes to Air and Naval power but on the ground they have a even force now that they have captured Area 42 and repaired some of the armor they captured."
He had this to add about the ground war.
"It would be unwise for the FBA to ask for ground troops or armor. Foreign figs on the ground could cause citizens to question the motives of our Allies and the FBA. This is a Civil War after all, a fight amongst PBR figs. It is wise of the FBA to not over use the Allie's missiles and air power. The ships at sea need their bricks reset and polished from time to time. The air power needs its plates pressed flat and its cockpits snapped shut. If the FBA pushed them 24/7 to attack they could be worn out and exhaust their supplies in a short time."

fighting outside government building.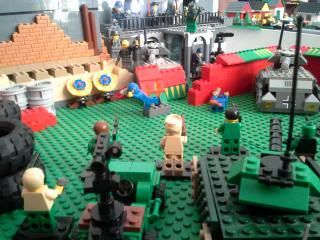 A "No Float" Zone established around PBR


With Allies around the Lego world stepping up to assist the FBA in its efforts to topple the Deed's regime one of the catch phrases we have heard from the troops on the ground is the "No Float Zone". There isn't a brick that can step foot off the shores of PBR without being spotted and eliminated by a fleet made up of the Caprica's, Legopolis and the Minifig Republic.
In other War news. The battle spread into the hills West of Brockton as FBA forces were seen near the Government Building. This building used to be one of Brik's summer homes until Deed's took possession and then moved all Government offices to the location. In reaction to the news that the FBA was in the area the House of Senate abandoned the facility in a hastily called in Helicopter rescue. This photo below was sent to us by a Fig who wishes to remain anonymous.



Area 42 Secured


The not so secret Top Secret facility fell into FBA control late Sunday evening as cruise missiles from FBA allies crashed down on Loyalist forces in and around Williams City. Sources in the city report massive damage to Loyalist armor and ships. A expected counter attack on Brockton is likely foiled with the docks in Williams City on fire this morning. Cruise Missiles from the
FNS Typhoon
sank a large landing ship from initial reports. One VTOL Cobra Rattler was seen limping back from attempting to counter attack Caprican Fighter Bombers which launched cruise missiles from high altitude. The Rattlers racks were empty of missiles but there are no reports of Caprica planes missing.
Also more bad news for the Loyalist forces, The Empire of Legoland clarified its stance on the war effort in PBR by firing Generals who were moving the Empire into a Pro-Loyalist stance. This move comes after a shocking and crazy speech by President Deed's late Sunday evening. In that speech the President announced he is not controlling the War effort but will start schmoozing figs in a effort to gain support. He also spoke as if he believes he could take over the world.
There is some bad news for the FBA forces, heavy artillery shelling landed on what why learned is their base of operations. The North West island was hammered for hours late Sunday and reports are coming in that the fig in charge of Black Brik was killed in the fighting. This is the FBA number two man who was leading the ground effort North of Williams City. With that loss the advantage there could swing back to the Loyalists until a suitable leader can be found.
FBA forces taking Area 42
Loyalist Artillery preparing to fire

Brockton falls, FBA in complete control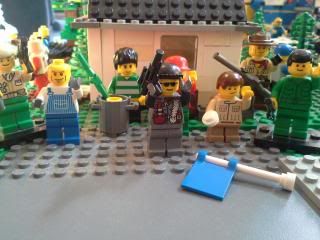 Early this morning the last remnants of Loyalist fled the Brockton region. FBA troops dropped the Blue cobra flag on the ground and celebrated the moment. Figs throughout the area came out of hiding to thank their liberators. One fig, Jon Block, had this to say.. "We were so scared, Cobra troops were ransacking our homes, looking for bricks, mumbling about a Great Seal. Their commander, some fig named "Blood" or something, said they should just turn the screws harder and then they'll know where it is." Other figs emerged and looked brick shocked from all the sorting they have endured.
Mini Fig Republic
air drops started this morning as plates and bricks for figs were brought in.
Other reports from the War front are telling us that the FBA is also in control of most of the Area 42 military facility. This is important news because that facility houses Space, Nuclear, Research and Weapon testing for all of PBR. The once secret location isn't so secret now since Brik used the base as the meeting place for a peace summit with the Caprica's and the Empire of Legoland.
We had a chance to sit down with the Commander of the FBA, General Hawk, and get his thoughts;
Our troopers fought with every stud and brick they could muster. I am impressed. Brockton is a key port for PBR and in taking it we have evened the battle field. We also captured a few pieces of repairable armor. AA emplacements are already up so Rattlers won't stand a chance. Unfortunately we haven't found Brik yet. We think Cobra has him in hiding in the North Mountain region, we have seen a lot of activity in that area. We know he is still alive because Deed's needs him alive. Deed's isn't really in power, Cobra is. We know it sounds like a Brikspiracy theory but it makes sense. Everywhere Deed's goes he has that hooded guy behind him. We haven't got all the studs lined up on this but it is a solid theory.
We can't thank our allies enough, those we have talked about in the news and those that are helping behind the scenes. Their aid has tipped the balance of power to our side. When Brik is in power again, and he will be, we are sure he will take each ones ideas and thoughts to heart to build a better Brikpublic. The Empire of Legoland.....we aren't sure why they are helping Deed's but I know Brik is friends with the Emperor, so maybe there is something going on we aren't aware of yet. We are in constant contact with them so we hope they will see the brick, so to speak.

General Hawk

Brockton Under Siege


FBA Forces have taken at least 2/3rds' of the Brockton area. Heavy fighting throughout the city has been reported and heavy Police Loyalists casualies are coming in to aid stations in the area. The Police Loyalist figs have not been reinforced by heavy armor that was expected to reach the area yesterday.
That armor was damage and destroyed when 18 Cruise Missiles landed in and around the River north of William's City. The damage to the area knocked out all the bridges and caused massive damage to the armor that was crossing.
Loyalists would have expected reinforcements from Area 42 but at 4pm local PBR time yesterday reports started to come in that 4 Stinger Missiles fired from the FNS Typhoon caused heavy damage to the forces in that area.
FBA troops have seen success in the opening days but they still have not taken control of any major area. Deed Loyalists still control the entire Williams City region and are expected to have heavy defense fortifications set up in the area.
Analyst have said the Deed's could be letting the FBA wear themselves down and when they are spread thin the Loyalists will attack. There still is the Fleshy Troops that have been drafted in, they are fresh and ready for a fight according to Deed spokespersons.
bridge and damaged armor North of Williams City
Heavy fighting in Brockton


Massive Explosions Rock Williams City


At 9pm PBR time on Sept 5th 18 massive explosions rocked the river area on the outskirts of Williams City. The explosions could be seen for miles and speculation is they were guided missles launched from high altitude. FBA spokespersons only said "we have the ability to strike from afar." and would not get into details with PBR News. Deed's spokesperson down played and side-stepped the explosions saying. "We had some equipment malfunctions and munitions fires that we quickly put out.
At this time PBR news is unable to take photos of the area as PBR Military has the region under lock down. We suspect there was heavy damage to the bridges that cross the river, separating Williams City and the Brockton region.
In Brockton, FBA forces battled in and around the city for control. Losses are light so far on both sides as medical figs have said they have seen only citizen figs in for slight brick damage. Pictured below is a FBA Marksfig on overwatch as figs flee the area.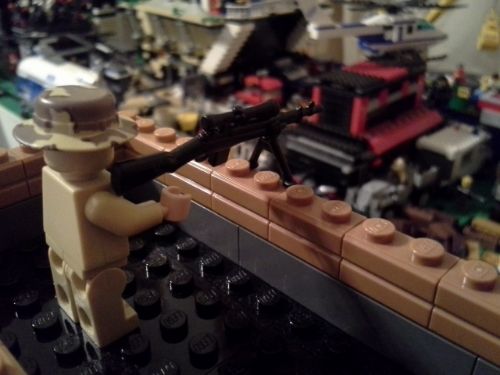 War in the Brikpublic!


Figs flee the island as war has broken out in PBR. The fighting began in the Northern section of Brockton. FBA forces have launched a offensive to take the town. Figs in Williams City expecting violence to erupt headed to the docks today and loaded up on anything that could float. Refugees are expected to travel to any Lego Country that will take them.
Deed Loyalists have been seen massing armor near the Southern area of Brockton. Police have rounded up dozens of suspected FBA supporters and have carted them off to prison.
FBA forces have asked for military assistance from multiple Lego Countries. The Leaders asked have raised many questions but there is the chance some will help with air strikes and surgical missile strikes.
Deed loyalist control the armor and air of PBR. FBA troops have been seen outfitting truck with heavy weapons.


Brik Is Alive!


Amazing news coming out the past few days. President Brik is alive! The photo below was first shown on the Minifig Times news site but is censored today. It cleary shows Brik alive, but severly injured. The hood over his head does leave some to question if it was him but the severed hand holding the firearm is proof enough for us. The firearm was a gift from Emperor David of the Empire of Legoland.
The Free PBR Army, or FBA for short, has announced it will attack today unless Deed's steps down and releases Brik. Their spokesfig had this to say. "Deed's is owned by Cobra, it is obvious from the photo Cobra has Brik. We demand they release him and lay down arms or face their blocks being taken off."


Brik Alive?


The
minifig times
is reporting that Brik is alive and being held by a terror group. Our investigative reporting has yet to show proof as we have not seen this photo. If it is true that would mean Deed's is not President, cannot hold the office nor would he have any power over the figs of PBR. We can confirm that the suspected terror group is Cobra, which would mean that Deed's is possibly involved in a large conspiracy. Cobra has backed Deed's since his rise to power and has become the de-facto defense force for our island nation.
As this news has spread throughout the island many figs are planning to protest the Bureaucracy Building and demand a investigation. Blue Fig Soldiers have been seen patrolling the streets in preparation for unrest. We have also learned that members of GI Fig and Blackbrik have formed the "Free PBR Army" and are preparing to demand a investigation into the election and the news from
minifigtimes
.


Fred Wins!?!?

PBR woke up to a shocking bit of news. Now President Fred Deeds has won, with 90% of the figs voting him into office. Panic struck many figs and it is reported that Leslie Anne fled the Island and is rumored to be heading to Legopolis. We suspect she will go into hiding with Chuck Charles, who is wanted by just about everybody.
Our polling data showed the exact opposite for a expected result but Fred's office explained that, "it was a funday Sunday, hard working figs didn't go to the voting brick until the last minute."
Interviewing figs who were seen at the docks, ready to go on 'vacation', we have a feeling that this new reign may not be a good one for PBR. We suspect it would take a shocking bit of news to get figs to rise up against such obviously corrupt election results.